Soul of the Sword
by
Julie Kagawa
Series:
Shadow of the Fox #2
Published by
Inkyard Press
,
Harlequin Teen
on June 25, 2019
Source:
Publisher
Genres:
Own Voices
,
Diversity
,
Action & Adventure
,
Fantasy & Magic
,
Romance
,
Young Adult
Amazon
|
Book Depository
|
Publisher
|
Barnes & Noble
Add to Goodreads
One thousand years ago, a wish was made to the Harbinger of Change and a sword of rage and lightning was forged. Kamigoroshi. The Godslayer. It had one task: to seal away the powerful demon Hakaimono.

Now he has broken free.

Kitsune shapeshifter Yumeko has one task: to take her piece of the ancient and powerful scroll to the Steel Feather temple in order to prevent the summoning of the Harbinger of Change, the great Kami Dragon who will grant one wish to whomever holds the Scroll of a Thousand Prayers. But she has a new enemy now. The demon Hakaimono, who for centuries was trapped in a cursed sword, has escaped and possessed the boy she thought would protect her, Kage Tatsumi of the Shadow Clan.

Hakaimono has done the unthinkable and joined forces with the Master of Demons in order to break the curse of the sword and set himself free. To overthrow the empire and cover the land in darkness, they need one thing: the Scroll of a Thousand Prayers. As the paths of Yumeko and the possessed Tatsumi cross once again, the entire empire will be thrown into chaos.
Note: This is the sequel to the book Shadow of the Fox, which you can find my review here (as well as fan art). This review will have minor spoilers!
I have been eagerly anticipating this book since the heart-stopping cliffhanger of Shadow of the Fox, and I was not disappointed! While Soul of the Sword didn't quite live up to the introduction of the world in book 1, the sequel still retains an action-packed plot and incredibly fun characters that keep readers going. There was a solid recap on what happened in book 1 (which I'm really grateful for, because there were lots of missing events in my own memory), and the storyline takes off from there. Yumeko and her merry band sets off for one adventure after another, making it strangely reminiscent of my classic anime faves, Rurouni Kenshin and Inuyasha. In book 1, Yumeko was still a bit naive and learning the ropes of the world, but in this book she's getting more comfortable with her own skin – and powers – as she fights for justice for the sake of the land. 
A Quick Plot Recap
It will take every ounce of bravery, determination, strength and fox trickery we can muster to defeat him. If there was ever a time to see exactly what your magic can do, it is now.
(Minor spoilers in this section; if you haven't read book 1 you can skip this part)
Plot-wise, there is more adventure than development of the story. This is fine for me (think of it like a well-done "quest" arc), but I can understand why readers may find it dragging. After defeating the oni from the last book, the Shadow Clan assassin Tatsumi gives into his feelings and the demon in his sword Hakaimono manages to possess his body. Very fun times here. Yumeko is on the look-out for him to kick the demon out and return his own soul (which is now in the sword, hence the title of the book), but also needs to bring her piece of the Scroll of a Thousand Prayers to this temple for safe-keeping. If the pieces of the Scroll of a Thousand Prayers are together, (1) mortal has the power to ask the great Kami Dragon ANY wish to be fulfilled. Dangerous stuff, right there. So we have two large plots going on, while Yumeko and her friends are also finding themselves. I can't say this is a character-driven book, but I do appreciate how Kagawa does not ignore the characters and still has a focus on them throughout the constant action. It turns out, those plot points converge when Hakaimono allies himself with the Master of Demons to 1) get the powerful dragon scroll and 2) let himself free from the bondages of a mortal body. And that's where our characters start their quest.
Yumeko and Her Merry Band
Doing battle with a fox is like trying to catch a reflection in a pond. We are shadows upon shadows, weaving our own worlds, our own realities.
One thing that stood out to me was Yumeko's group, full of unique characters that shine on their own. Yumeko herself is just a kitsune (fox demon), but her magic may hold more power than she ever realized.
Along the way are also a shrine maiden with her two dogs (that are actually komainu shrine guardians), an outspoken ronin, and an honorable samurai noble who embodies perfection (and his haiku's are absolutely hilarious). The shrine maiden, Reika, takes steps towards trusting the rest of the group and developing their friendship.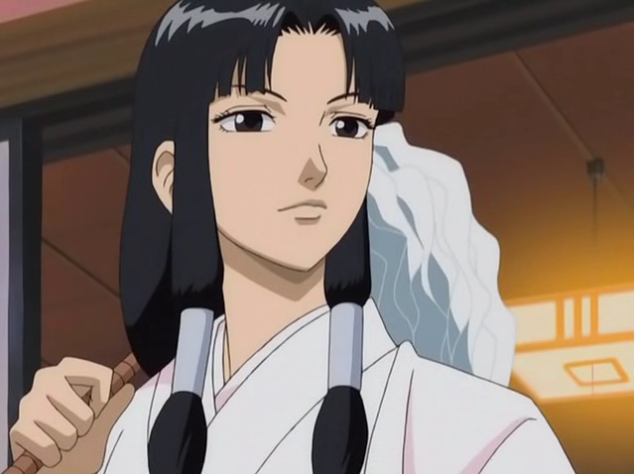 The ronin, Okame-san, finds himself drawn to a sense of honor that he thought he had lost. (Side note: ronin are kind of ex-samurai who usually wander around because of a disgraceful action or such; they aren't under any lord so they've basically gone rogue.)
And the noble, Daisuke, starts exploring past the strict rules society has set up for him.
I also adore the light side romance that starts between the latter of these characters, featuring two seemingly opposite personalities that converge together so well. I just have So Many Thoughts about this group, and hope they come out okay at the end of the series.
An Interesting POV
'I am Hakaimono, first general to O-Hakumon and leader of the oni lords. So trust me when I say I know more about the wrath of Jigoku than you ever will.'
When Tatsumi finds himself trapped within the sword that held Hakaimono, readers also find themselves with an added POV: of Hakaimono himself.
This was an intriguing addition that I thought was well-executed and kept the story full of twists. Readers can see Hakaimono's superiority complex as a well-known and ruthless demon general, and his desperation to have his body back. I think plot-wise, this was an excellent way to keep readers in the know about the opposing force, and also make sure readers don't forget about Tatsumi (who has more of a minor role in this story). And speaking of Tatsumi… because of his lack of page time (sad, but I knew this was coming), the romance between him and Yumeko don't really develop. But THAT'S OKAY because after the huge twist at the conclusion of Soul of the Sword, I'm excited to see how it'll progress in book 3. Very interesting things happen, folks. Veryyyy interestingggg. 
SO, overall, Soul of the Sword was a solid sequel (peep that alliteration), but that's all it really is: book 2. It's a massive set-up for the final book, and bridges storylines and characters together in a way that's a little more drawn-out than it could be (I for one don't mind the action). Also, one of my new favorite couples develop in this book. So bet. Either way, I would definitely recommend this series for adventure-lovers who are always on the look-out for the next quest to fulfill, and journey to take. I think anime-lovers will especially find familiar, yet well-loved tropes like I did, making it both a nostalgic and refreshing read to discover.
Content/Trigger Warnings: mention of drowning, mention of suicide, blood/gore, intense violence, deaths and loss of loved ones
Rating: 3.5 out of 5
Thank you to Harlequin Australia for sending us a review copy!
Soul of the Sword is available from Australian bookstores for RRP$19.99 or from The Book Depository. 
The following two tabs change content below.
Aila is a young adult reader who loves to transport herself to new dimensions through reading. She's currently an undergraduate student at university in the US. Let's talk about our obsessions on Twitter
@aila_1woaa!